Leather belts manufacturing machines and webbing belts manufacturing machines (sewing machine, cutting machine, skiving machine, splitting machine, embossingg machine, hole punching and edge burnishing machine, hot cutting machine)
CB3500 Best selling heavy duty leather sewing machine for very thick leather belts and strap

This compact leather sewing machine comes with extremely needle penetration force which is better for stitching rigid and synthetic belts. Equip with powerful, quiet and reliable heavy duty sewing machine servo motor (Energy saving motor, easily control the speed).

Click here for DEMO video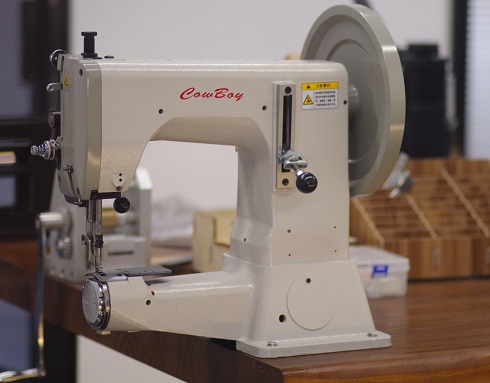 205-370AE Premium quality heavy duty leather stitching machine for custom leather belts manufacturer

the powerful one for three dimensional workpieces. This machine is used by professionals who want the most stunning visual appearance of their sewn products along with power and precision of German engineering. Equip with powerful, quiet and reliable heavy duty sewing machine servo motor (Energy saving motor, easily control the speed).

Click here for DEMO video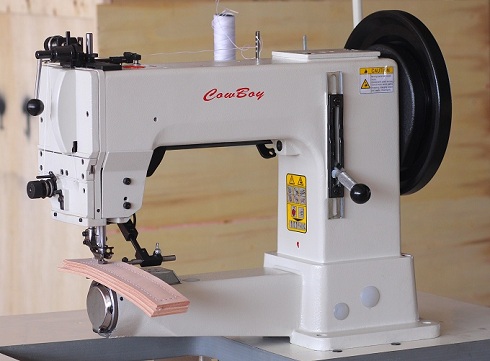 MLK600-8020 Programmable, automatic leather belt sewing machine

it is custom made sewing automation for decorative stitching upto 6mm thick and hard leather belts.

Click here for DEMO video
818 Leather strap cutting machine

this leather strap cutter represents an extraordinary value for the Artist who wants to start bulk production of strap goods.

Click here for DEMO video
8116 Hand crank leather splitter for handmade leather belts

this hand crank leather splitter is the ultimate bench mounted splitting solution for doing level splits on very heavy and thick leathers.

Click here for DEMO video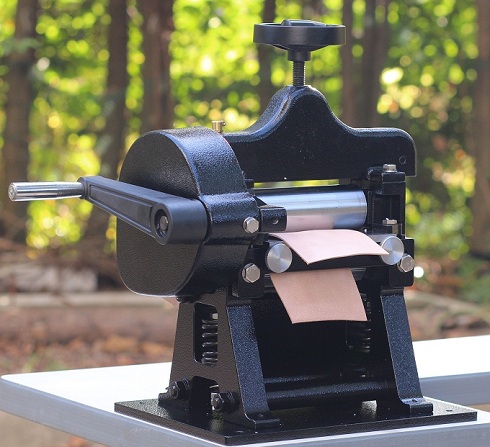 CB8116PRO Hand cranked or motorized leather splitter for optimal control

this vegetable tanned leather belt splitting machine is good for both one man leather works and professional belts manufacturer

Click here for watching video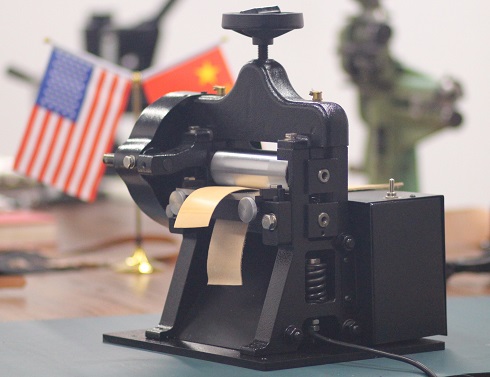 8020 Heavy duty leather splitting machine

it is among one of the largest stationary blade splitters ever built for use in leather shops and by leather hobbyists.

Click here for DEMO video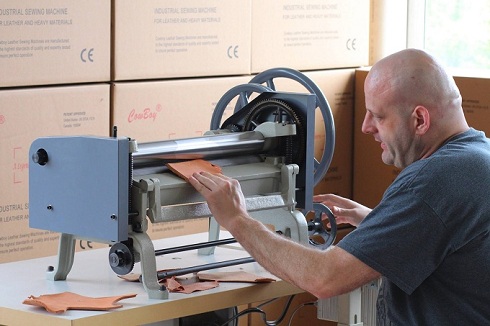 8700 Hand crank leather belts embossing machine

hand crank manual belt and strap embossing machine is an invaluable tool for use in any leatherworkers shop.

Click here for DEMO video


8700PRO Leather belt embossing machine (by heated roller)

The hot embosser penetrates deeper into the leather, leaves a crisper more defined imprint, and also leaves the leather shiny where the die touches the leather. People call the shinyness "patina". Patina most resembles the marks done by hand tooling and carving the leather.

Click here for watching video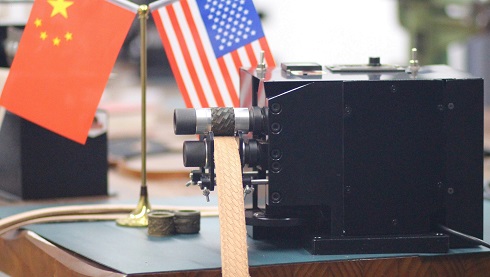 8500 Hand operated hole punching machine for leather belt and strap

this shand operated hole punching machine is built for basic repeat punching in the belt and strap trades, maximizes efficiency and performance at an economical price.

Click here for DEMO video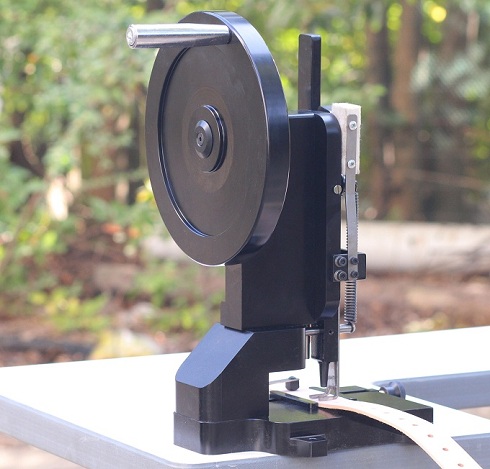 CowBoy 803 leather belt edge beveling machine

This affordable Edge Strap Beveler can round two edges simultaneously with ease. Each blade features six edges, simply rotate the blades and switch from side to side to get a new, sharp edge. The knife steel is better than any other Edge Strap Edger built today!!

Click here for watching video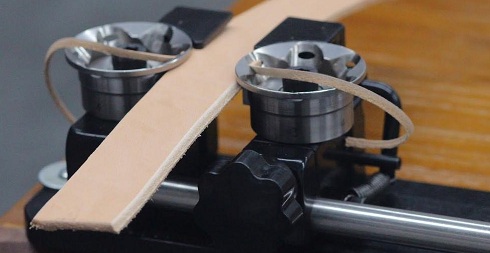 CB810 Affordable leather burnishing machine great for burnishing belts edges

Click here for watching video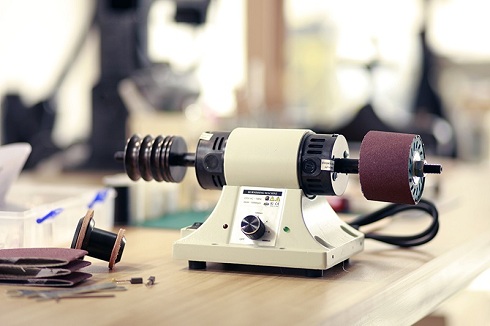 CowBoy 808 Portable leather strap cutter for cutting leather belts

Click here for Demo video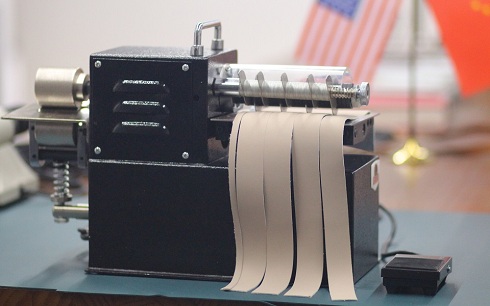 Kinedyne HM-750L Revolutionary new powerful servo motor for heavy duty leather sewing machine

Achieve fully adjustable speed control with this low cost but reliable servo motor. Speed is adjustable by a simple setting that allowing you to slow down your machine and sew STITCH BY STITCH. The world's most powerful "low-speed, high-torque", silent & reliable servo motor that is able to maintain full power and high torque even at low speed.
Click here for 3D video

Click here for DEMO video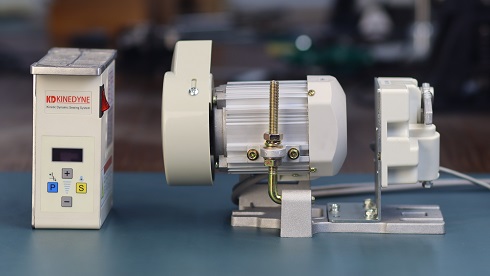 Best Price Bonded Nylon Thread for sewing leather belts

HigTex N66 Heavy duty Nylon thread is designed for heavy-weight sewing applications, it is the popular choice to use when stitching upholstery, leather, vinyl, canvas, webbing and other heavy fabric.
HighTex premium bonded nylon thread widely used in manufacturing of furniture upholstery (leather sofas and armchair), car upholstery, automotive interiors, shoes & footwear, leather bag & backpack, wallets, handbags, leather belts & luggage, saddlery (knife sheath, holster, saddles, harness, bridles, handcrafted belts).
HighTex N66 extra strong sewing threads are made according to the highest quality standards but with affordable price. If your desire is a top quality thread with the best of stitching properties, then Pre-Lubricated Bonded Nylon threads are the only choice. Great for hand sewing too!!

Click here for more information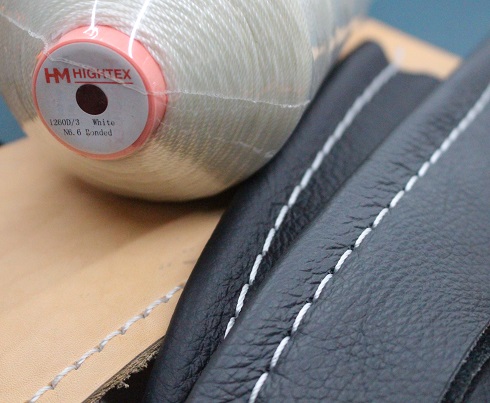 If you have any questions or concerns, please feel free to contact us at info@automatic-sewing.com, thank you!