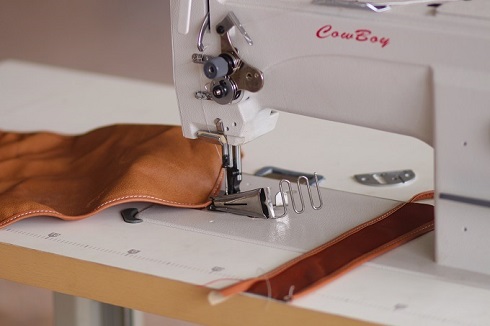 The 7618 machine is an excellent machine for sewing lightweight and medium weight leather items as well as canvas and nylon webbing.

It excels at sewing chaps, chinks, wallets, purses, handbags, lightweight pet and horse products, turn out sheets, horse blankets, as well as indoor and outdoor upholstery, marine vinyl, automobile upholstery, various coated and laminated products, synthetic and genuine furs, fleece, hair on hides, and the like.

This machine features a presser foot lift of about 1/2 inch and can sew items up to 7/16 inch thick.

An excellent design feature of this machine is that it uses the very common Singer 111 style feet allowing the user access to well over 100 different types of feet including left toe feet, right toe feet, piping feet, cording feet, welting feet, edge guide feet and many others.

The 7618 machine has a compound feed mechanism utilizing a needle feed, walking presser foot, and feed dog.

Equipped with our variable speed servo motor and speed reducer unit this machine can sew at a very controlled rate of speed from as slow as 15 stitches per minute all the way up to 300 stitches per minute.

Each machine is expertly adjusted, lubricated, tested, and assembled to insure a lifetime of trouble free operation.

Any machine is only as good as the company selling it, and you can count on Cowboy to provide excellent customer service before, during, and after the sale.

Try Cowboy Sewing Machines for your next machine and realize the Cowboy Advantage today!!!!
United States Head Sales and Distribution Office

12712 South Avenue North Lima, Ohio 44452 United States
Tel:+1 (330) 6921418
E-mail: neelre@comcast.net