A leading brand of heavy duty automatic pattern sewing machine manufacturer in today market, HighTex heavy duty bar-tacking rope sewing machine widely used by harness and rope manufacturers in United States, Germany, Italy, France, United Kingdom, Argentina, Armenia, Australia, Belarus, Belgium, Brazil, Bulgaria, Canada, China, Colombia,Czech Republic, Fiji, Finland, India, Indonesia, Iran, Israel, Japan, Latvia, Lithuania, Malaysia, Mexico, Netherlands, New Zealand, Peru, Poland, South Korea, Romania, Russia, Serbia, Singapore, South Africa, Sweden, Thailand, Tunisia, Turkey, Ukraine, United Arab Emirates, Venezuela and Vietnam.
71008R Heavy duty automatic rope sewing machine for climbing rope manufacturer in Thailand:

Heavy duty rope end bar-tacking machine for manufacturing climbing ropes, safety ropes, harness, sterling ropes, cord, industrial ropes, climbing gear, mooring rope, rigging rope and other fiber ropes. It is capable of stitching 2 ropes together with each of 6-18 mm(diameter).

Click here for video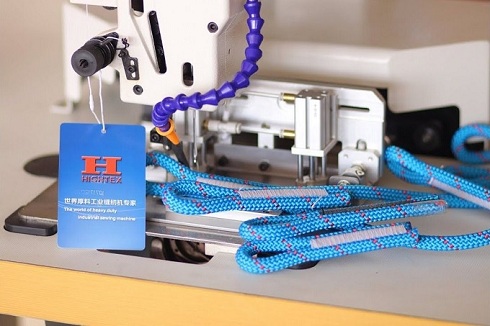 7273PLK/R Best affordable automatic safety rope sewing machine in Thailand:

Why choose HighTex 7273PLK/R rope stitching machine:
1.The lowest cost heavy duty programmable bar tacking sewing machine for safety and rescue ropes available on the market today;
2. High sewing speed is up to 400 rpm;
3. Can easily stitch 2 ropes with each of 6-22 mm(diameter);
4. Using very thick sewing thread up to #7, V415, T-400, 1300dx3;
5. Completely assembled, tested, pre-programmed and serviced, reay to operate out of box.

Watch the video on YouTube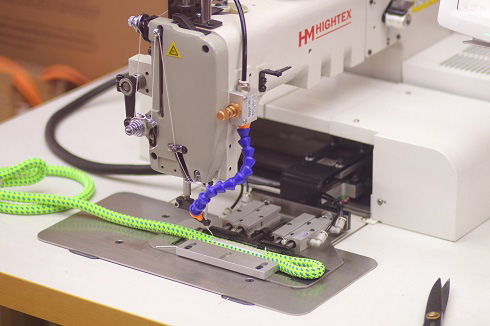 733PLC/R Heaviest automatic rope end bar tacking sewing machine for manufacturer of military ropes, marine ropes and other industrial ropes in Thailand

Design for stitching safety ropes from 10 to 28mm or 20mm thick Dyneema, Spectra, UHMWPE Rope, including offshore Ropes, mooring rope, tow ropes sewing machine and other marine ropes. The special extra large shuttle hook and bobbin capacity offers high efficiency in sewing products using extra thick thread and has a thread rating up-to Metric size #4, V693, 2000dx3.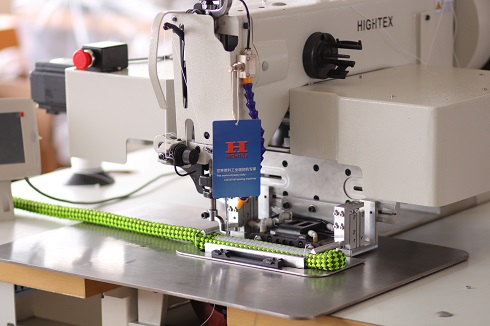 430HM High speed automatic rope sewing machine for Dog leashes manufacturer in Thailand:

The unique advantage of HighTex 430HM is the double size shuttle hook and bobbin capacity. This rope stitching machine is an excellent choice for those persons seeking a technologically advanced sewing machine for sewing rope dog leash, dog collars, leashes and harnesses. This heavy duty bar tacking sewing machine can stitch max. 10mm ropes with each of 10mm (Diameter), at up to 1000RPM sewing speed.
But please note, this rope end bar tacking machine cannot work for manufacturer of climbing ropes and safety harness.

Watch the video on YouTube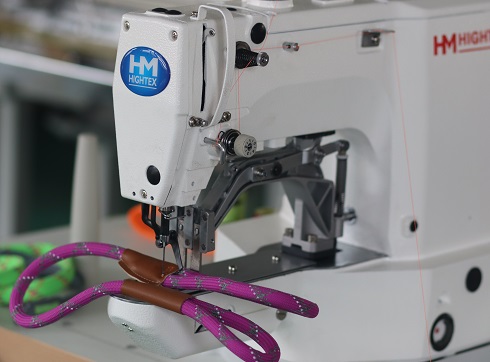 828B Hot knife automatic rope cutting machine measures and cuts rope up to 16mm in diameter

This heavy duty automatic hot knife webbing cutting machine is designed for 10mm thick webbing strap made of Nylon and Polyester or synthetic climbing rope up to 16mm. The temperature of top and bottom heating blades is up to 600 C, can melt 16mm safety ropes without any difficult. This rope cutting machine can automatically cut and seal both ends of synthetic rope. It has adjustable dwell time. It is high efficiency automatic cutting equipment for the manufacturers of climbing rope and other safety ropes in Thailand.