How to sew thick thread decorative seams (topstitching) and ornamental stitches on upholstery leather (for car upholstery and interiors)?
In high end sofas & furniture manufacture and automotive upholstery industry, thick thread decorative seams play an extremely important role in the appearance and performance of the finished product.
Whether single- or twin-needle topstitching, piping or felled seams - Hightex machines can always be relied on for precise and neat decorative seams and ornamental seams thus improving the quality features of the upholstered furniture.
There are 3 creative ways to make decorative seams (topstitching) and ornamental stitches on your leather sofas & armchairs, recliner chairs, leather car seat covers and other leather furniture.
1, Single needle topstitching with thick decorative threads to produce decorative seams

Decorative topstitching is a great way to add emphasis to a part of your leather sofas & armchairs and gives it a quality finish. Hightex 205-370BF is sophisticated upholstery sewing machine has been improved by the leading leather sofas and furniture manufacturers (La-Z-Boy, Ethan Allen and Natuzzi). New technologies of this machine are optimal conditions for making furniture and automobile upholstery, luxury leather goods and other technical textile articles.
This thick thread decorative stitching machine has been wided used by worldwide leather sofa manufacturers and Holland car upholstery.
Click here for video from leather sofas manufacturer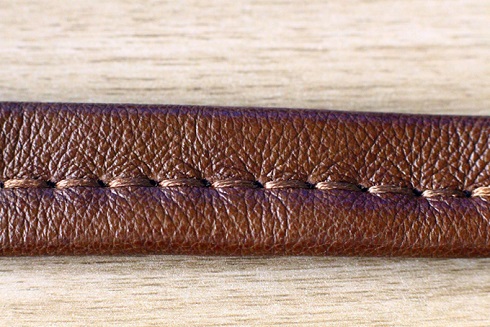 2, Double needle topstitching with thick decorative threads to produce decorative seams

Thick thread decorative stitching seams with 2 needles are widely used in upholstery, car interiors, furniture and leather goods. Hightex 204-370-DP post bed leather sewing machine has been developed taking into account the requirements of the car seat manufacturers, armchairs and sofas. Its design with several new technologies, perfectly adapted to the sewing averages qualified materials, heavy and very heavy.
Click here for video from leather sofas manufacturer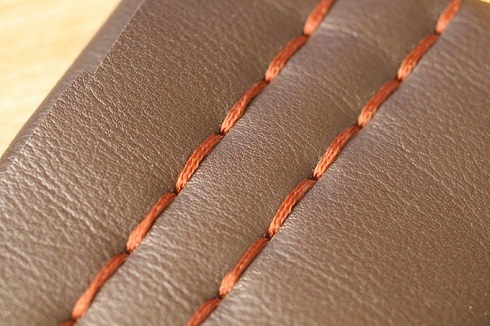 3, Single and twin needle thick thread ornamental seams

The furniture and automotive upholstery industry faces constantly changing fashion trends. Hightex 204-102MD twin needle decorative stitching machine making your ideas a reality. The special roller presser foot can easily sewing corners of leather sofas & armchair, recliner chairs, leather car seat covers. 7 different cams for up to 14 different decorative stitches, including T-stitch, Box-stitch etc.
Click here for video from leather sofas manufacturer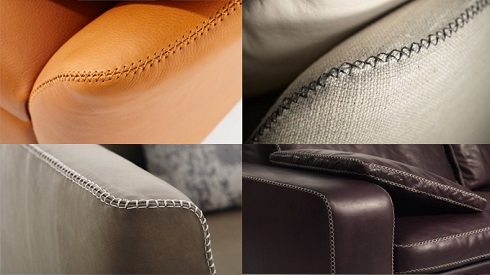 7700P Double needle walking foot ornamental stitching sewing machine is the computerized version of Hightex 204-102MD. New technology of this machine are optimal conditions for ornamental stitching sofas, armchair, shoes, leather bags and automobile upholstery: The walking foot mechanism facilitates sewing over thick spots and cross seams (overlapped seams); With 200 different stitch patterns; Easy to change patterns by touch screen.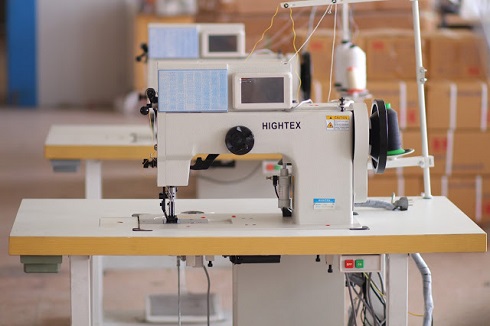 4, Post bed sewing machine for thick thread, double needle decorative seam or ornamental seam
204-370-PRO Post bed sewing machine twin needle, triple feed, crochet Barrel, suitable for twin needle decorative stitches or ornamental stitches on leather with braided thread. The latest thick thread topstitching technology, combined all advantages of above sewing machines, for example triple feeding system, rotary needle bar (to perform various ornamental stitch), Barrel shuttle hook and post bed design. It is the best decorative stitching machine for high end leather sofa and arm chair manuacturers.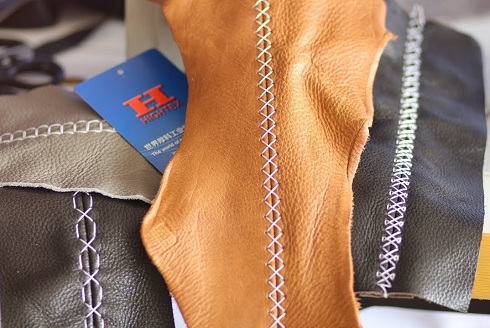 5, 74400 the basic walking foot industrial sewing machine for upholstery
High quality compound feed and walking foot sewing machine for leather and webbing. Same to Mitsubishi LU2-4400-BOB Single Needle walking foot sewing machine & Mitsubishi LU2-4420-BOB Double Needle walking foot sewing machine, Ideal for sewing car interior, auto upholstery, leather bags, briefcases, furniture and tents etc.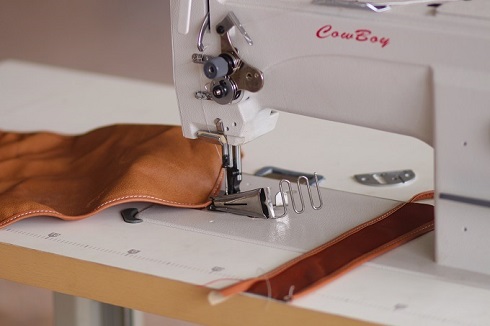 6, 7510N / 7560N The best industrial sewing machine for automotive upholstery and leather seats
The unique feed mechanism promises excellent efficiency of feed. In addition to the standard models of 1-needle and 2-needle machines, other models intended for special purposes are available, including models for extra heavy materials and one (7560N-7) having a thread trimmer. The machine is applicable to an extended range of heavy materials for industrial use, such as cargo lifting & lashing belts and containers, as well as those for general use, such as car seats, sofas and bags, thereby contributing to both improved quality and increased productivity.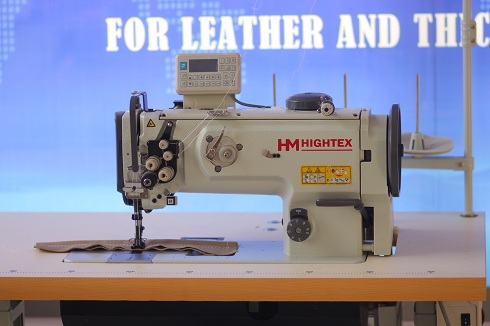 7, 7565N Double needle unison-feed sewing machine with organized split needle bar for ca upholstery and interiors
The organized split needle bar mechanism makes it possible to stop or reset the left or right needle by operating a one-touch utility lever. The machine produces neatly finished stitches at corner parts of the material.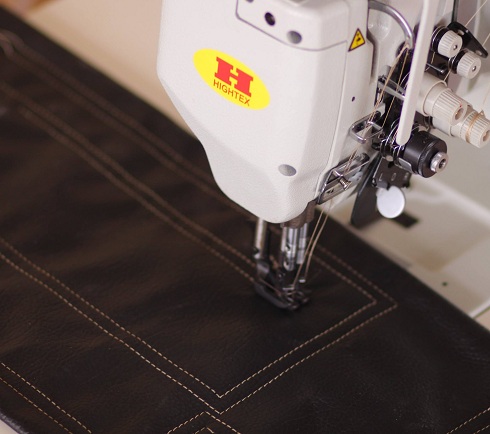 Kinedyne HM-750T the most powerful energy saving servo motor for heavy duty industrial sewing machines

A super powerful, quiet and reliable energy saving servo motor perfect for extra heavy duty webbing sewing machine. This high performance servo motor can save 60-80% electricity and improve 20-40% efficiency of the harness sewing machines. Usually the cost of servo motor can be recovered within 2-3 years by saving money on electricity. However the advantage of time savings and labor cost saving will make the actual return on investment faster.
Click here for 3D video

Click here for DEMO video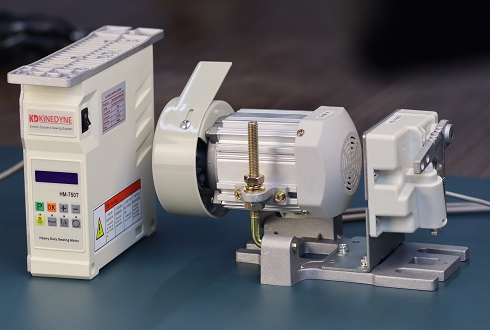 If you have any questions or concerns, please feel free to contact us at info@automatic-sewing.com, thank you!