Leather sewing machine Czech Republic
As leading manufacturer of heavy duty industrial sewing machines in China, we are looking for professional industrial sewing machine dealer in Czech Republic, to distribute our leather sewing machine (for saddlery and leather crafts), heavy duty automatic pattern sewing machine (for slings, harness and ropes), upholstery sewing machine (for thick thread decorative stitching or ornamental seams on leather sofas), as well leather crafting tools.

Before finding Vietnam industrial sewing machine dealer, we have sold these heavy duty industrial sewing machines to manufacturers directly in Czech Republic.

Hightex CB4500 Heavy duty saddlery sewing machine

The Cowboy CB4500 is our number one selling heavy duty saddlery sewing machine. The leather sewing machine features an extra large barrel style shuttle hook which is the same hook used in the Durkopp Adler 205-370 and Juki TSC-441. This leather stitcher features a compound feed design with triple feed. The presser foot lift of the machine is about 1 inch and the machine is capable of sewing most materials up to a maximum sewable thickness of 3/4"-7/8".
A full array of attachments are available for saddle maker, harness makers and leather holster makers.

Click here for video 1

Click here for video 2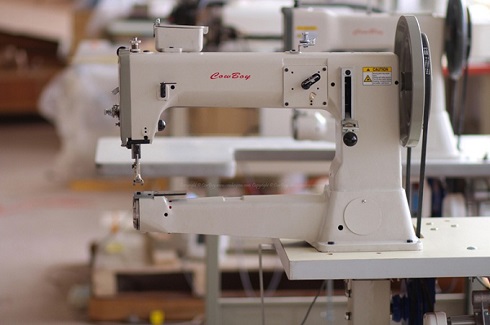 733PLC Super heavy duty programmable electric pattern sewing machine for slings and harness:

The 733PLC class is one of the most heavy duty programmable electronic pattern sewing machines in production today. It can be used to stitch many heavy duty applications such as lifting slings, parachute harness, rigging gear, particularly for the Automotive, Aviation and Military Industries.

Click here for video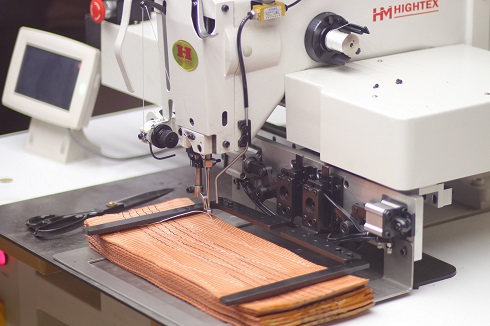 This heavy duty automatic sewing machine purchased by a lifting slings manufacturer in Czech Republic.
204-370-PRO Post bed sewing machine for thick thread, double needle decorative seam or ornamental seam
204-370-PRO Post bed sewing machine twin needle, triple feed, crochet Barrel, suitable for twin needle decorative stitches or ornamental stitches on leather with braided thread. The latest thick thread topstitching technology, combined all advantages of above sewing machines, for example triple feeding system, rotary needle bar (to perform various ornamental stitch), Barrel shuttle hook and post bed design. It is the best decorative stitching machine for high end leather sofa and arm chair manuacturers.
This thick thread upholstery sewing machine purchased by a car seat manufacturer in Czech Republic, they purchasd it together with EMS-250CNC-150100 large area automatic car seat cover sewing machine (Click here for DEMO video) .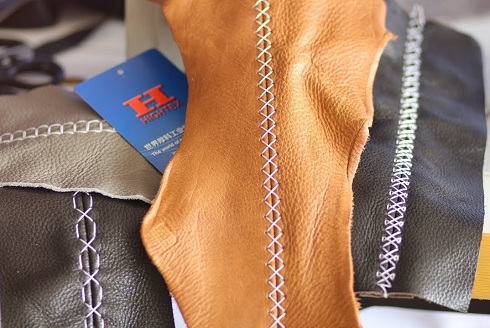 9366-12 Heavy duty triple zig-zag sail making machine:

The greatest industrial straight stitch and zigzag sewing machine for sail makers and repairs who are looking for an extra heavy duty 3-step zigzag machine.

Covered straight stitch, 1-step (2-points), 2-step (3-points), 3-step (4-points) zigzag. Can stitch more than 20 oz. sailcloth, using thick thread up to V207 and needle #250.

Click here for video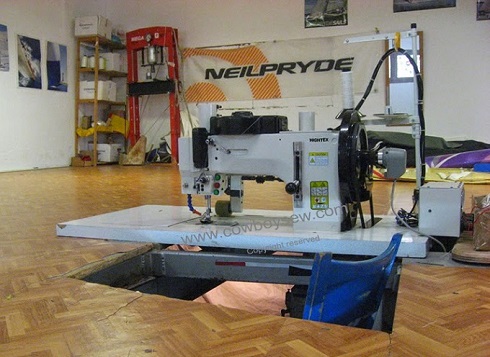 This triple zigzag sail sewing machine purchased by an industrial sewing machine dealer in Czech Republic.
If you are interested in becoming our dealer, please contact us at bill28@vip.163.com