Which automatic sewing machine is best for webbing lifting slings and rigging slings?
There are 2 types heavy duty industrial sewing machines in the manufacturing of lifting slings and rigging slings (made of Nylon or Polyester webbing) as well ad tow strap and recovery strap: (1) heavy weight industrial straight stitch machines for assembly layers of webbing together; (2) heavy duty automatic progammable pattern sewing machine for reinforcement stitches or reinforced eyes.

Heavy duty straight industrial sewing machines also can perform reinforcement stitches or reinforced eyes by manually move webbing. In many small webbing lifting straps factories, still sewing reinforce seams by straight industrial sewing machine. For better understanding, please check below 3 videos:

Video for sewing assembly seam on webbings

Video for automatic reinforcement stitching

Video for manual sewing reinforced eyes

But more and more of these webbing slings manufacturers are upgrading production with automatic machine, due to below advantage of heavy duty automatic programmable sewing machines:

(1) Simple and easy operation with automatic sewing machine, that reduce dependence on skilled workers (Today it is incredibly difficult to find skilled sewing workers);

(2) In many case, one worker can operate 2-3 custom automated sewing machines at same time, great for saving labor cost;

(3) The quality of the seams (uniform sewing patterns) will be controlled by computer, so you can improve the quality of finished product.
Now let us help you select a right"Ready-to-Operate" Sewing Automation Equipment for your sewing production of lifting slings and rigging slings:
1, TOTAL THICKNESS OF WEBBING SLINGS
Sewing thickness is the first point you need to consider when select sewing machine. It determined by height of presser foot lift, hook type, needle bar stroke, needle penetration force and thread tension, etc. In the productions of normal Nylon or Polyester webbing slings, we recommend below sewing capacity:
MLK600-3020: max sewing thickness 9mm, ideal for 2-3 ply slings with each of 3mm
72600PLK: max sewing thickness 12mm, ideal for 2-4 ply slings with each of 3mm
7273CNC: max sewing thickness 15mm, ideal for 2-4 ply slings with each of 3.5mm
GLK700-5030: max sewing thickness 15mm, ideal for 2-4 ply slings with each of 3.5mm
733PLC: max sewing thickness 28mm, ideal for 6-8 ply slings with each of 3.5mm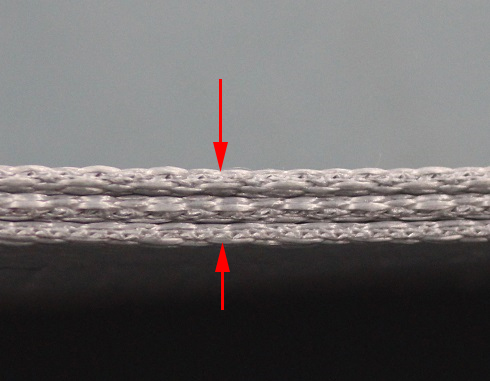 2, MAX. SIZE OF SEWING PATTERN (SEWING AREA)
The maximum working area of pattern sewing machine determines the maximum sewing area you can obtain. You should double check the maximum reinforced stitching area you need, both length (X) and width (Y) must be within range of machine's working area.
The standard sewig area of automatic pattern sewing machine is 300x200mm, the max. sewing width (Y- axis) is 200mm which can meet most sewing productin of rigging and lifting slings.

In today market, more and more textile slings manufacturers use 240mm and 300 wide webbing for the production of extremely heavy duty lifting sling (10T-30T), GLK700-5030 large area programmable pattern sewing machine is the just the specialist of wide body lifting slings.

Some people intend to purchase one large area programmable pattern sewing machine for stitching both small size and large size straps and belts, it is NOT a good idea. Small area programmable pattern sewing machine is better for small area reinforcement stitch due to its high speed. If you are to sew small item with large area automatic pattern sewing machine, you might loss on production efficiency and seam quality.

If you are a small web slings factory and want to purchase only one automatic sewing machine for custom made different sizes webbing lifting slings from 30mm to 300m (not expect for high efficiency), GLK700-5030 could be a practical sewing solution. It can sew 200mm, 240mm and 300mm wide webbing, also can sew multi narrow webbing slings at once.
Below list the working area of each heavy duty electronic controlled pattern sewing machine:

MLK600-3020 max. sewing area: 300x200mm
72600PLK: max. sewing area: 300x200mm
7273CNC: max. sewing area: 300x200mm
GLK700-5030: max. sewing area: 500x300mm
733PLC: max. sewing area: 300x200mm

Usually webbing slings manufacturers need to different sizes slings, you need to clear the minimum and maximum diameters of your webbing slings.



3, SEWING THREAD SIZE
Safety is top priority for slings, straps and harnesses for protecting people and property, heavier sewing threads are always used in the production. The hook type of pattern sewing machine determines the maximum sewing thread size that the machine can process. HIGHTEX series extra heavy duty automatic pattern tacking machines equipped with 3 type hooks:
MLK600-3020 max. sewing thread: Metric#10,T-270, V277, 840Dx3
72600PLK max. sewing thread: Metric #8,V346, T-350,1100Dx3
7273CNC max. sewing thread: Metric #7, V415, T-400, 1300Dx3
GLK700-5030 max. sewing thread: Metric #7, V415, T-400, 1300Dx3
733PLC max. sewing thread: Metric size #4, V693, 2000Dx3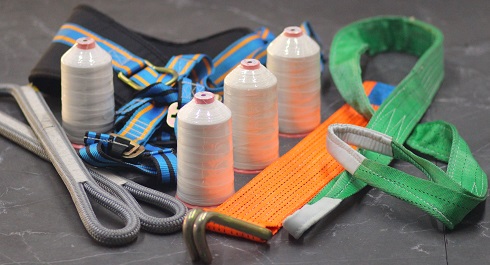 4, SPEED OF SEWING MACHINE
Sewing speed biggest concern for customers buying their sewing equipment. Basically heavier industrial sewing machines run at slower speed, ligher weigth sewing machine can run at higher speed. So it is better to choose a highest speed automatic sewing machine that can sew the thickness of your webbing lifting slings.
MLK600-3020 max. sewing speed: 1200RPM
72600PLK max. sewing speed: 1000RMP
7273CNC max. sewing sepped: 800PRM
GLK700-5030 max. sewing speed: 600RPM
733PLC max. sewing speed: 500RPM
What is the difference between HighTex automatic webbing lifting slings sewing machines and other Chinese heavy duty automatic sewing machines?
Enter Hightex --- a corporation founded on the principle of providing customized sewing automation for all phases of the heavy weight sewn products industry.

Other companies that manufacture sewing machines do exactly that -- they assemble components and test for correct operation, then ship the machine to the end user, unprogrammed, untested, without the proper jigging and fixturing necessary to complete the sewing projects of their customers.

So the customers must then hire an engineer to program their patterns into the machine, hire fabrication shops to build the required fixtures to hold the material, test the machine on a pre-production level, and then train employees and personnel to operate the machine. Such projects of a monumental undertaking require thousands of dollars, and in some cases tens of thousands of dollars to accomplish.
The first advantage of Hightex automatic industrial sewing machines is the customization.

We realize that customized sewing solution is the most suitable product for the highest possible productivity and quality. Our sale engineers will make clear your detailed sewing requirement, select the right machine for your application. Then our field engineers will build all the necessary clamping, jigging and fixturing to accomplish the sewing task, configuring these sewing equipment properly for customer sewing requirements.
The second advantage of Hightex sewing automation equipment is "Ready-to-Operate" (customers can use the machines immediately when they receive).

All HighTex heavy duty automatic pattern sewing machines and bar tacking machines will be thoroughly tested and gone over by Mingyuan Industrial Sewing Application Center.

This includes testing and checking all pneumatic, electrical, and computer systems for proper operation, programming the machine with all patterns supplied by the customers, and then testing the machine on samples that match exact customer specifications.

These operations save the end user many thousands of dollars in extra expense, eliminating the need for outsourcing the work required to get the machine in operating condition.
The third advantage of Hightex is the Spare Parts Package.

At Hightex, we realize how critical it is to keep your automation running. Let's face it, equipment breaks and machines malfunction. The key objective in a manufacturing environment is to minimize unplanned downtime. This package provides the necessary parts for the first 3-4 years of operation.

You can purchase the spare parts package together with machine, then no need to order any parts during this period.
If you have any questions or concerns, please feel free to contact us at info@automatic-sewing.com, thank you!